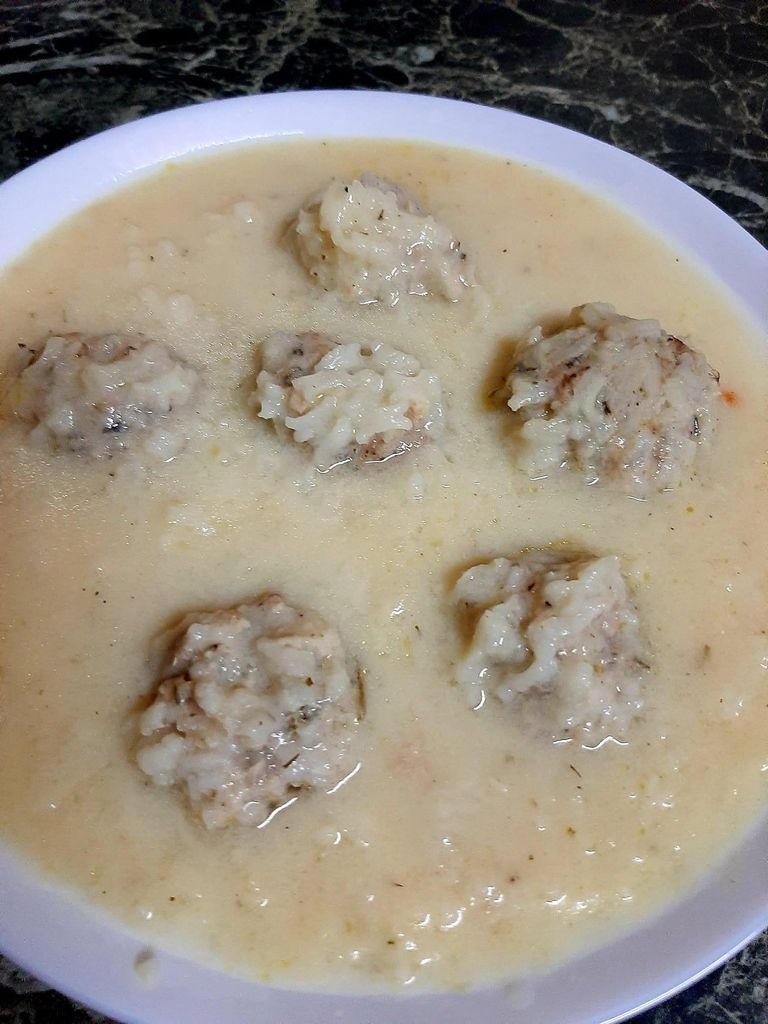 Good morning my friends, one my favorite and traditional Greek food for today, you will love it if you try it
Join me at preparation
Ingredients
For the meatballs
500 grams of ground beef
1 egg
1 medium onion, grated or very finely chopped
1 grated carrot
1/4 cup olive oil
1/4 cup Carolina or glazed rice
2 tbsp. chopped dill
2 tbsp. chopped parsley
salt
freshly ground pepper
For the soup
4 tbsp. olive oil
1 carrot in small frames
1 small celery root in small frames (300 g)
1 potato in small squares
1 chopped leek
1½ liter of hot water
2 eggs
2 medium lemons
1 tbsp. corn flour
a little chopped dill
freshly ground pepper
Preparation
For the fluffy yiouvarlakia, prepare the rice by putting it in a bowl and covering it with plenty of water. Let it soak until the rest of the ingredients are ready, and before using it, rinse it well and drain it.
In a bowl, put the minced meat, egg, prepared rice, onion, carrot, olive oil, herbs and salt and pepper.
Knead the ingredients very well until the minced meat changes color and turns white.
We shape small balls the size of a walnut and place them on a tray.
Peel a squash, grate it and cut it into small squares.
Heat the olive oil in a saucepan and sauté the vegetables for 2-3 minutes.
Add the water and bring to a boil.
Pour in all the bagpipes, salt and cover the food.
Lower the heat and simmer for 25-30 minutes.
Check the salt and pepper at the end of boiling.
Lower the heat to 1 and wait for the boiling to subside.
For the eggnog
In a bowl, dissolve the lemon juice with the corn flour. In another bowl, whisk the egg whites into a light meringue, until smooth tops are formed. Add the yolks and continue beating.
If you are going to reheat the food (always on a very low heat) corn flour is necessary, so as not to cut the eggnog. Otherwise make a simple eggnog.
Dilute the lemon-corn flour mixture with hot broth (1. Cup) of the food. Put it all together in the beaten eggs and mix. Pour the egg and lemon over the food, shaking the pot from the handles to mix it properly. Finally add a little dill, very finely chopped.
I am waiting for your comments if you try this
Stay safe and healthy my friends and take care of your people
My best wishes from Greece