Greetings my dear friends,
Saludos mis queridos amigos.


My little Cami, loves to paint, she is another artist like her sister, that they are inherited from them father because I am not very creative. One of the things that keeps her busy and without making a mess is drawing and painting.
Mi pequeña Cami, ama pintar, es otra artista como su hermana, eso es herencia de su padre porque yo no soy muy creativa. Una de las cosas que la mantiene ocupada y sin hacer desastre es dibujar y pintar.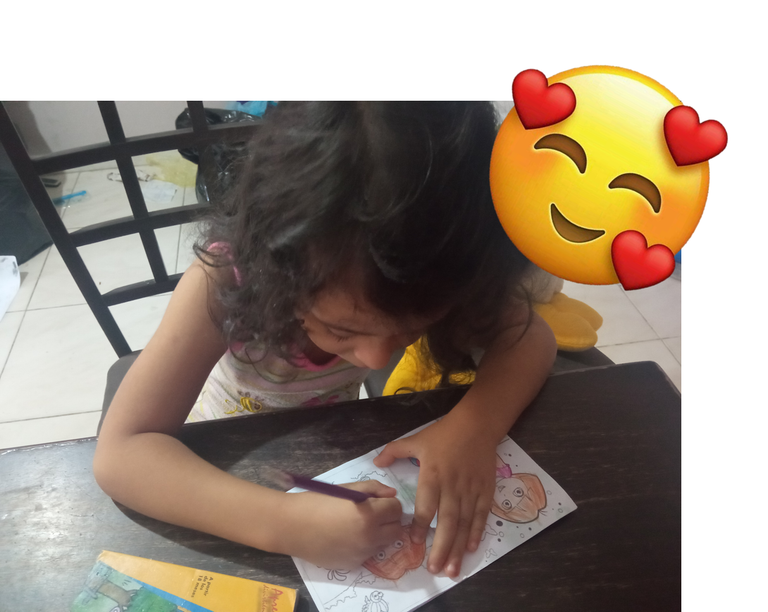 Last week a neighbor was selling some books with drawings to paint, a pity that it brings few sheets because at one point she painted all the drawings, this time she was painting the book of Dora the Explorer, it is one of her favorite comics, I buy too the one about Disney princesses.
La semana pasada una vecina estaba vendiendo unos libritos con dibujos para pintar, lástima que trae pocas hoas porque en un momento ella pintó todos los dibujos, en esta oportunidad estaba pintando el librito de Dora la exploradora, es una de sus comiquitas favoritas, también le comparmos el de princesas de Disney.


Now she has also awakened her interest in stories, every day she wants me to read a story to her and also asks me to teach her to read, until now she already knows all the letters of the alphabet, she recognizes them and writes them when I dictate the letters to her, I think he will learn to read soon.
Ahora también ha despertado su interés por los cuentos, cada día quiere que le lea algún cuento y además me pide que la enseñe a leer, hasta ahora ya se sabe todas las letras del abecedario, las reconoce y las escribe cuando le dicto las letras, creo que aprenderá pronto a leer.


My daughter Kathe learned to read very quickly, I hope it is that easy with Cami.
Mi hija Kathe aprendió muy rápido a leer, espero que con Cami sea así de fácil.


Happy Day.
Feliz Día.