Greetings my dear friends,
Saludos mis queridos amigos.


Last Sunday the children's day was celebrated here in Venezuela, normally that day we liked to go to my father-in-law's house where we put a pool for the children (my daughters and their cousins) and then in the urbanization they would have a party for everyone the kids on that block. With the pandemic theme, it is already the second year that we have spent Children's Day at home.
El domingo pasado se celebró el día del niño aquí en Venezuela, normalmente ese día nos gustaba ir a la casa de mi suegro donde le colocábamos una piscina a los niños (nis hijas y sus primos) y luego en la urbanización hacían una fiesta para todos los niños de esa cuadra. Con el tema pandemia, ya es el segundo año que pasamos el día del niño en casa.


To make it a little different from the other days, I made some pizzas and sweet treats. My daughters wanted to see the Disney movie Luca, and we gave them the Surprise and put it on, I made popcorn and we don't usually drink sodas because they are not healthy, but in this case we bought a soda to go with the pizza and then the popcorn, like cinema. The girls were very happy.
Para hacerlo un poco diferente a los demás días, hice unas pizzas y golfeados. Mis hijas querían ver la película Luca de Disney, y les dimos la Sorpresa y la pusimos, hice cotufas y no acostumbramos a tomar refrescos por no son saludable pero en este caso compramos un refresco para acompañar la pizza y luego las cotufas, tipo cine. Las niñas estaban muy contentas.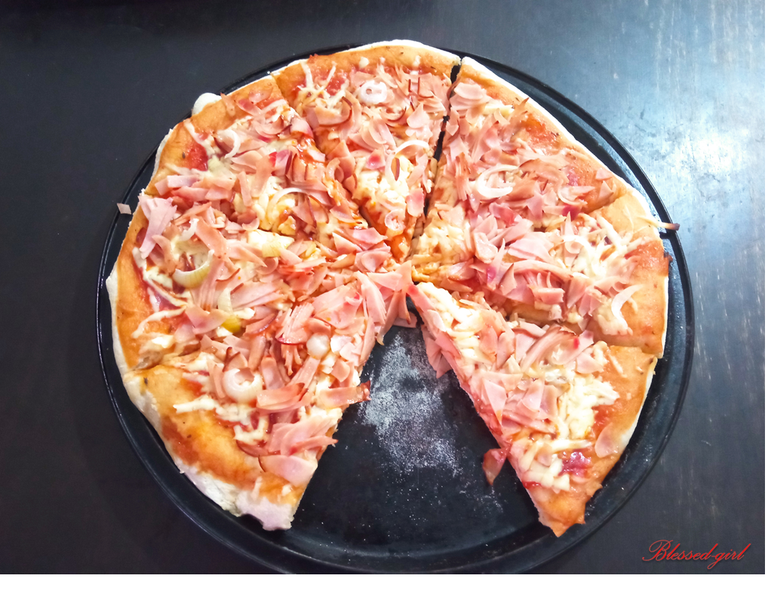 Esta es una de las pizzas que hice para celebrar, foto tomada con mi teléfono LG Risio
This is one of the pizzas I made to celebrate, photo taken with my Cell phone LG Risio
That day we went to bed at 12 am .... because we also played games and the girls wanted not us to go to bed but on Monday my husband had to work and we had to tell them that it was too late. Despite not having gone out, my daughters enjoyed it, they said it was better than going to the cinema :)
Ese día nos acostamos a las 12 am.... porque ademas hicimos juegos y las niñas nos querían acostarse pero el lunes mi esposo debía trabajar y tuvimos que decirles que ya era muy tarde. A pesar de no haber salido, mis hijas lo disfrutaron, dijeron que fue mejor que ir al cine :)
Happy weekend to everyone.
Feliz Fin de Semana para Todos.